Congratulations! Buzzdock has successfully installed!
---
How to enable Buzzdock?
---
Firefox:
After the installation restart Firefox. Check the "Allow this Installation" box, click "Continue", and then click "Restart Firefox"
Internet Explorer:
After the installation restart Internet Explorer. Then click the "Enable" button.
---
How to use Buzzdock?
---
Buzzdock is a dock that sits right below the search bar of your favorite search websites. In addition to the search results you would normally get, the Buzzdock Search Enhancer provides you with a quick and easy way to see what sites such as YouTube, Twitter, Flickr and eBay are showing. Click any of the icons within the Buzzdock to see that sites top results for your search term. Whether you're searching for something specific, or just looking for something cool, the Search Enhancer can help you get there!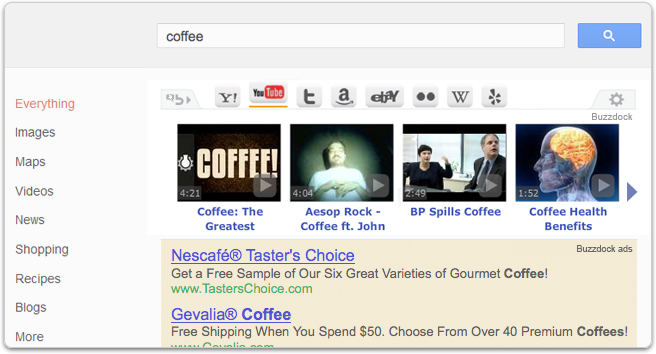 ---
What websites does Buzzdock's Search Enhancing Feature support?
---
Buzzdock's Search Enhancing feature supports enabling quick search for Google.
---
Where will I see Buzzdock ads?
---
Buzzdock ads appear on web pages where you can use Buzzdock to get enhanced search results. We are always adding new sites as well. On content sites and on search engine there will be 3 text ads beneath Buzzdock. Ads are labeled "Buzzdock Ads" and are not affiliated with the underlying website on which they appear.
---
Default Search and Homepage
---
If selected, Buzzdock will set the default home page and default search on IE, Firefox and Chrome to use the Buzzdock.com custom search interface.
This setting can be changed by following the steps below:
Default Home page:
Internet Explorer:
Firefox:
Chrome:
Default New Tab:
Internet Explorer:
Firefox:
Chrome:
Default Search:
---
How do I uninstall Buzzdock?
---
To remove Buzzdock from your computer, please select your applicable uninstall instructions from the options below.
Uninstalling from a PC:
Go to the Windows Start Menu and select "Control Panel".
Select either "Add/Remove" or "Programs & Features", whichever appears in your operating system.
Select Buzzdock and click "Uninstall" or "Remove."
Uninstalling from Your Browser:
If you downloaded Buzzdock using a browser installer instead of an .exe PC installer you will need to uninstall the Buzzdock extension from your browser. If you don't see Buzzdock in your Add/Remove programs, this can applies to you. This method may also be used if you want to uninstall Buzzdock from a specific browser, but keep it in on other browsers.
In the tools menu of your browser, select "Extensions" (sometimes called "Add-ons")
Select Buzzdock and click "Uninstall" OR "Remove."
In order to clear all Buzzdock references from your browser after uninstall, please clear your cookies, cache and delete any temporary internet files. You may also need to close and reopen your browser(s).
Flash Cookies:
Internet Explorer:
Firefox:
Chrome:
---
What are Buzzdock's Terms of Service and Privacy Policies?
---
The Buzzdock Terms of Service can be found here here and the Privacy Policy can be found here here. Buzzdock takes privacy very seriously and personally identifiable information is NEVER collected.